Eating Music is an independent production house and record label where we co-create music from conception to release and beyond…
Welcome to our website !
Below is a mixed plate of goodies from our menu.
Enjoy !
We are hanging out for a Q&A on Zoom to launch our newest artist project SHARKA. We have art, animations, ebooks and music for those ready to lift their vibrations and heal themselves with positivity.
The Release date is 01.23 Say it again 'One True Tree'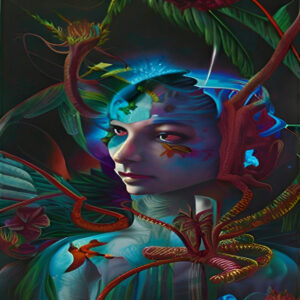 || An Asthmatix Collaboration ||
The video to The Asthmatix track ft. Steelo 'Send a Sign' is still in the edit suite. Expect to see Steelo's mug mixed into this beautiful composition by Milan from SOM.
|| The Bone Idols
Archive ||
I would archive, with the greatest of reverence the release of Keep On, our lead track with Aphletik that featured UK stalwart Ty.
Of all the songs we worked on, this grew the most organically from MPC beat to finished vinyl, it also did that most tricky of dances; it transmitted positive vibes without being corny.
Slipped in as a footnote would be the first time I heard it on the radio, on a sticky summer's day – it getting rewound three times in a row.

– The Bone Idols
In honour of the first official release on Eating Music, OE and the team have released a digital OE Bandana NFT.
This one of fifty digital pattern has the new single embedded and will unlock new possibilities and access in the future. Don't Doubt ! and Don't miss out !
If you'd like to join Eating Music as a supporter, please buy us a coffee using the below link.
We use 100% of these contributions to continue our mentorship programs supporting homeless youth in Australia

Support Eating Music / Street 2 Stage